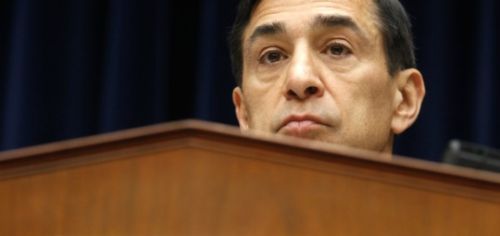 House Oversight Chairman Darrell "Witch Hunt" Issa hasn't been able to find or invent an impeachable offense, but he is issuing threats to Health and Human Services (HHS) Secretary Kathleen Sebelius based on things he invented.
Issa is threatening to conduct a legal probe of Sebelius for contradicting partial, cherry-picked transcripts Issa himself leaked to the media.
In a letter to Sebelius, Issa said he would give her an opportunity to "clarify or amend" her testimony prior to "further investigative action by the Committee."

"Providing false or misleading testimony to Congress is a serious matter," Issa warned in the letter. "Witnesses who purposely give false or misleading testimony during a Congressional hearing may be subject to criminal liability."
To be clear, Darrell Issa leaked partial transcripts from interviews which made it appear as though healthcare.gov is riddled with security flaws, but the truth is those flaws were fixed before the interviews were conducted. The fact that the security holes were identified and plugged before Issa's inquisition was left out of the material he leaked.
The idea that healthcare.gov represents a major threat to the security and privacy of those who use it is a complete fabrication that was produced by Darrell Issa. He's trying, and failing, to wag the dog.
Issa is now accusing Sebelius of lying while it is he who is the biggest liar in Congress.
House Republicans are moving on from conducting a political campaign on the taxpayer dime to potentially conducting a frivolous legal probe on the taxpayer dime.
Darrell Issa should face ethics charges and be removed from office, but misuse of the House Ethics Committee is also a part of their campaign.