After the News Jersey Star-Ledger began inquiring about the frivolous George Washington bridge closure, Governor Chris Christie's staff had salty words for the state's largest newspaper.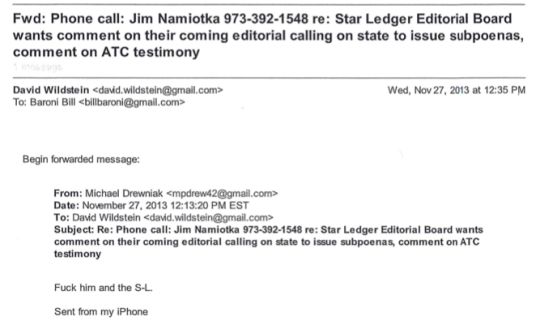 "Fuck him and the [Star-Ledger].

Sent from my iPhone"
Michael Drewniak is Chris Christie's press secretary saying fuck you to the newspaper that endorsed his boss in his campaign against Barbara Buono even though, by their own assessment, he's a fraud. And to make matters worse, Drewniak is also a former Star-Ledger reporter.
Based on emails examined so far, it seems clear that Christie's entire inner-circle was aware of what was going on as early as last fall. It's also clear that his staff sought to cover it all up and then stonewall the media and the state legislature.
It's increasingly hard to believe Christie himself knew nothing about it until this week.