When it comes to reaching out to different demographics of voters, the Republican party's problem is pretty simple; they have too many racist psychopaths in their ranks.
During an editorial board meeting with the Dallas Morning News last Friday, Tea Party candidate Chris Mapp allegedly said that "ranchers should be allowed to shoot on sight anyone illegally crossing the border on to their land and referred to such people as 'wetbacks.'" In defending the statement to the San Antonio Express-News on the same day, Mapp explained that using the derogatory term "wetback" is as "normal as breathing air in South Texas."
Mapp, a Senate candidate, has apparently walked back part of his call for violence but not really. And certainly not the racial element.
(all sic)
Did I say "Wetbacks should be shot on sight"?

"NO" I DID NOT.
I said "OUR BORDERS CAN BE RESPECTED BY CHOICE OR BY FORCE AND CHOICE IS NOT WORKING.

Did I use the term Wetback?" Yes".

Did I use the term illegal immigrant? "Yes"

Would I use the term undocumented worker? "Not likely"
Here's a photo of Mapp with Senator Ted Cruz taken from Mapp's Facebook page.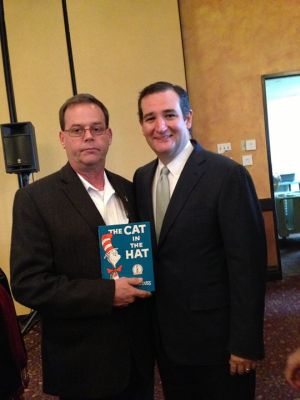 Isn't that lovely?