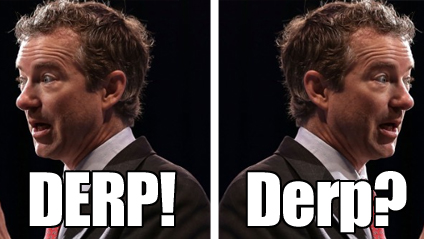 Ken Cuccinelli seemingly had no idea what he was talking about when he and Rand Paul unveiled their sham lawsuit against the Obama administration yesterday, and it turns out there's a good reason for that.
He didn't draft it.
Rand reportedly worked with former Reagan administration lawyer Bruce Fein to draft the suit, but then replaced him with Cuccinelli.
But when Paul filed his suit at the U.S. District Court in Washington on Wednesday morning, Fein's name had been replaced with that of Ken Cuccinelli, the failed Republican gubernatorial candidate in Virginia who until last month had been the state's attorney general. Cuccinelli has never argued a case in that courthouse, and he isn't even a member of the D.C. bar (he also filed a motion Wednesday seeking an exception to allow him to argue this case in D.C.). But he is, like Paul, a tea party darling.

Fein, who has not been paid in full for his legal work by Paul's political action committee, was furious that he had been omitted from the filing he wrote.
The suit reportedly has "long passages that are nearly identical to those in the complaint" filed by Paul and Cuccinelli.
Rand Paul and Cuccinelli are a laughing stock and this a politically-motivated mockery of the justice system. It should be thrown out of court.
Update... MSNBC reports RANDPAC has released a statement from Fein saying that he has been paid for the work he did on the lawsuit. The fact remains he was replaced by Cuccinelli and Fein was not immediately named in the lawsuit. Cuccinelli still has no idea what he's talking about.