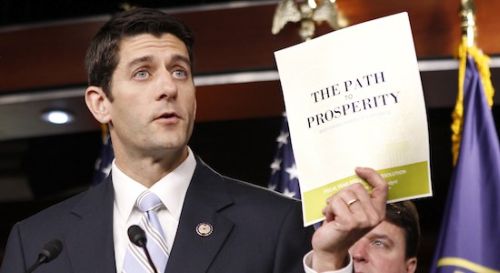 It's not as if I was going out on a long limb to predict that the House GOP tax plan would be dog shit, but I told you so.
Just as predicted, their new plan pays for a huge tax cut by reducing or removing deductions used by working families and, rather than close loopholes, it shields them.
Camp seeks to scrap the deduction for state and local tax payments, a provision most heavily used in Democratic states like New York and California.

His plan also lowers the cap on the mortgage interest deduction from $1 million to $500,000, reduces rates for the Earned Income Tax Credit (EITC) and taxes certain contributions to 401(k) plans. [...]

The Ways and Means chairman rolls back an accelerated cost recovery system, stretches out depreciation schedules and installs a system that would shield most corporate offshore income from U.S. taxation.
This is why Mitch McConnell preempted today's reveal last night and why Speaker John Boehner is literally laughing at it.
Their "plan" will lower the top tax bracket from 39 percent to 25 percent by screwing the little people.
This isn't a bug, it's a feature. Working as intended.