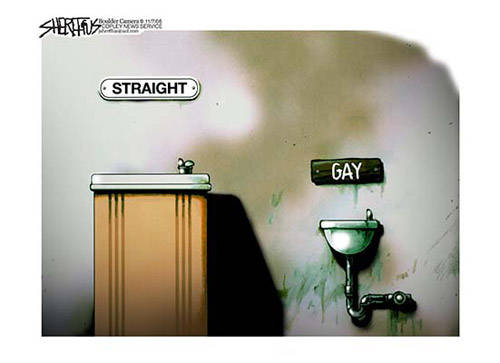 Republicans apparently have no idea what the words discrimination and segregation mean if recent events are any indication.
While lawmakers in Kansas and Arizona have claimed that their Jim Crow-style laws for gay people are actually secret anti-discrimination bills, a GOP candidate in Nevada is claiming that ENDA is actually a segregation bill.
The candidate, Cresent Hardy, called the Employment Nondiscrimination Act, which prohibits employers from discriminating against their employees based on sexual orientation, a "segregation" law. [...]

"When we create classes, we create that same separation that we're trying to unfold somehow," Hardy said in an interview with the Las Vegas Sun on Tuesday. Mother Jones flagged Hardy's comments on Wednesday. "By continuing to create these laws that are what I call segregation laws, it puts one class of a person over another. We are creating classes of people through these laws."
If ENDA were a segregation law, it would create "separate but equal" employment opportunities for straight and gay people, but that's not what it does. ENDA would make it illegal to separate people based on their sexual orientation while creating a more equal environment. It would de-segregate the workplace by making it illegal to fire someone for being gay.
Hardy says this is tantamount to creating "classes of people," but there would be only one class: employees.
The rank stupidity of the Republican party is indescribably Lovecraftian.