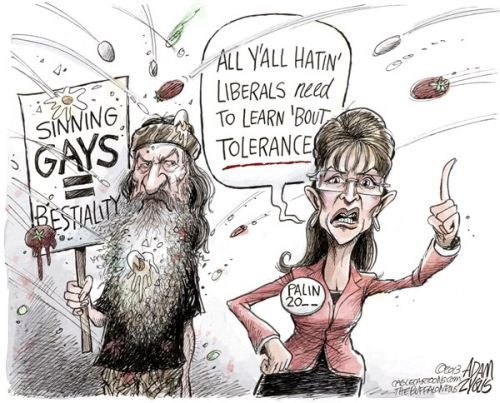 The official name for it is the Duck Commander Independence Bowl, but let's be real; this is the Racist Homophobe Bowl to be hosted in Shreveport, Louisiana.
via SBNation
Those Duck Dynasty folks are unstoppable. They've now got their own bowl game. The Tim Fletcher Show first reported that the Robertson family's company would get naming rights to the Shreveport, La. Independence Bowl, and ESPN's Brett McMurphy confirms:
Duck Commander Independence Bowl signs 6-year deal for naming rights to the bowl game source told @ESPN

— Brett McMurphy (@McMurphyESPN) February 23, 2014
More from the Shreveport Times
"We can confirm that Independence Bowl Foundation officials are very excited about a partnership with Duck Commander," Missy Setters, the executive director of the Independence Bowl, said.

The Duck Commander, based in West Monroe, is best known for the hit A&E show "Duck Dynasty."
I don't think it's appropriate to put college athletes in a situation where they will be inadvertently representing a brand known for homophobia and racism simply because that's the bowl game their football team was selected for. This is no different than if the Rush Limbaugh Show signed a deal to sponsor the Rush Limbaugh Slut Bowl.
Duck Commander already sponsors sporting events such as a NASCAR race in Texas, but that does not involve college students. College athletes do not have a say in where they play.
I have no doubt that we will hear about this again when bowl season returns.