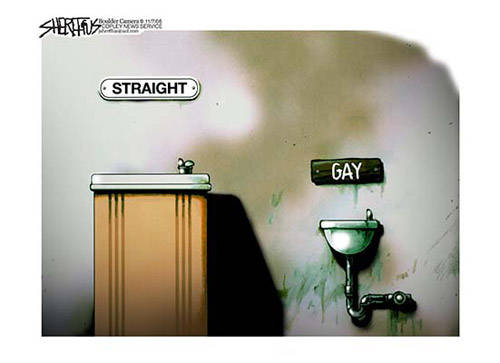 When Arizona Governor Jan Brewer vetoed the Jim Crow for Gays bill she said the language of the bill was vague and too broad.
That may be the case, but apparently her office helped craft the language of the bill.
Capitol Media Services reported Monday on the meetings that Brewer's advisers, Michael Hunter and Joe Sciarrota, had with the Center for Arizona Policy, which drafted and pushed the bill. They began in January before the legislative session commenced; the bill was introduced Jan. 14. [...]

"The intent of the meetings… was to thoroughly vet the language, address their concerns, and make changes in the language pursuant to their concerns," [CAP president Cathi Herrod] said.
The governor's office worked with the bill's progenitors to ensure that it wasn't too vague or broad.
I'm just guessing here, but here's my theory: Governor Jan Brewer had every intention of signing the bill into law but backed out after its passage in the legislature drew nationwide condemnation. Moreover, Jan Brewer is too stupid to have understood the implications of the bill on her own and didn't realize until the rest of the country informed her.
I'm not sure if that's a more sympathetic view than the idea that she actively supported the project knowing full well what the implications were before backing out at the last second.
Whether she understood the implications or not, her office clearly helped pass the bill.