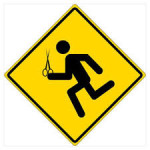 The documentary film Bowling for Columbine debuted twelve years ago, but with each passing year it seems that the title of the film itself grows more poignant.
To put it simply — we're asking for it.
The Arizona state Senate has advanced a bill that would open up a loophole to allow you to carry guns in government buildings even if it's forbidden.
On a 16-13 vote, the Senate approved legislation allowing anyone with a gun, open or concealed, to ignore "no weapons" signs on public buildings if there are not lockers to secure them immediately available. SB1063 now goes to the House.
Lockers? Does your local DMV have gun lockers in the lobby?
No, and why the hell should it?
They didn't stop there.
In a separate vote, the Senate Judiciary Committee agreed to permit some gun owners to carry their guns into buildings, lockers or not.

HB2339, which already has been approved by the House, applies to the more than 215,000 who have undergone a state-approved training class and background check which allows them to carry a concealed weapon. It says they can ignore "no guns" signs and lockers and keep their weapons with them in the building.
The first bill allows you to carry guns into government buildings if there are no lockers "immediately available." The second bill allows you to carry guns into government buildings even if there are lockers immediately available.
But wait, we're not done! Call now and Arizona Republicans will triple your order!
In a separate vote, the same committee approved HB2517. It requires a court to impose a $5,000 fine against any government official, elected or appointed, who knowingly enforces any local ordinance with contradicts state laws.
Arizona Republicans really, really want more guns in government buildings. They're covering all the bases; voting for three separate bills in short order aimed at putting a gun in every cubicle.
This would be a good time to point out that a bad guy with a gun was a good guy with a gun up until the point he pulled the trigger.
(via Arizona Sun Daily)