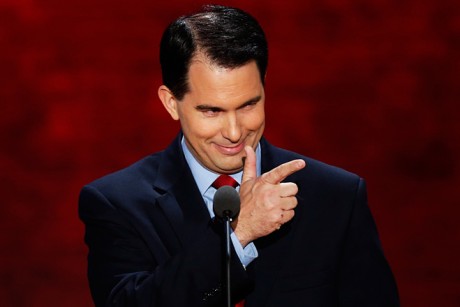 Wisconsin has the second highest voter turnout rate in the nation, second only to its neighbor Minnesota.
To you or I this an impressive feat that local residents and public officials should be proud of, but Governor Scott Walker clearly thinks high turnout is a problem.
In 2016, the role of Florida — with its six hour voting lines in 2012 — could be played by Gov. Scott Walker's (R) state of Wisconsin. That's because of a bill Walker signed on Thursday eliminating early voting in Wisconsin on weekends. This is the second time Walker signed a restriction on early voting into law. In 2011, he signed a bill reducing early voting from three weeks to two, and limiting it to just one weekend.
The bill will also prohibit you from casting an absentee ballot later than 7 p.m. on a weekday while eliminating weekend voting.
High turnout is not something anyone should take for granted and it certainly isn't something that should be viewed as a problem. The consequences of low voter turnout can be severe; installing madmen into office.
The upside is that restricting voting appears to have backfired in many cases, but that doesn't mean it should be overlooked or given a pass and there's no guarantee it will continue to backfire in the future.