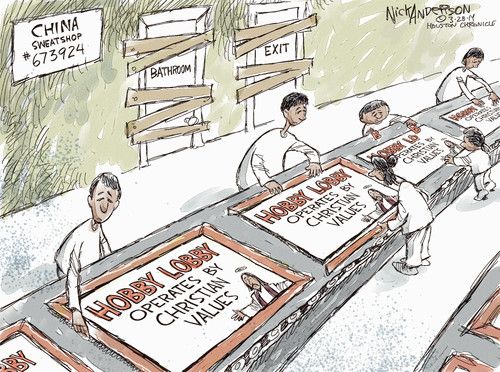 It's not entirely surprising that a major figurehead of the clergy would be clueless on contraception, but this is glaring.
New York Cardinal Timothy Dolan appeared on Face the Nation yesterday to defend Hobby Lobby and during his interview he revealed that he doesn't really have any idea what he's talking about.
"I think they're just true Americans," he told host Norah O'Donnell of Hobby Lobby's owners, who claim that providing emergency contraceptive pills violates their religious beliefs. "Is the ability to buy contraceptives, that are now widely available—my Lord, all you have to do is walk into a 7-11 or any shop on any street in America and have access to them—is that right to access those and have them paid for, is that such a towering good that it would suffocate the rights of conscience?"
As you're probably aware, you cannot walk into 7-11 or "any shop" on any street and buy Plan B or birth control. Birth control requires a prescription and Plan B is only sold at pharmacies.
Furthermore, Cardinal Dolan doesn't understand that the company is not who pays for contraception. Employees pay for insurance and the insurance company pays for contraception.
If you were to argue that an employer contribution indirectly funds contraception, you could also say a paycheck does. The only way to escape this conundrum is to stop hiring women. Good luck with that.
If the social media department at 7-11 is good they'll use this to sell people coffee and slurpees.
('toon via Nick Anderson)