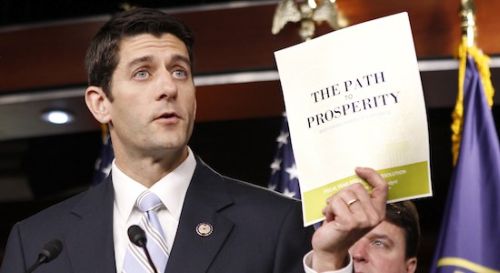 Fourth time's a charm?
House Republican leadership said today that they will pass The Path to Poverty 4.0.
"It'll pass," Majority Whip Kevin McCarthy (R-Calif.) said during a leadership press conference, answering a reporter's question that was directed at Speaker John Boehner (R-Ohio). [...]

Boehner told reporters that the Ryan budget was "essentially the same" as in past years and that leaders face "the same challenges we always have" in getting the votes to pass it.
And, just like the last three iterations of Ryan's budget-cutting junk-shot, this one won't become law either.
From a purely political perspective I can't imagine why they plan to do this because the budget will never become law but it will provide ammunition to Democrats in November. Moreover, they may see significant defections from their own caucus who don't want to vote for Ryan's poison pill just as campaign season heats up.
There are very few districts, if any, that Ryan's budget wouldn't irreparably harm.
The more than 10 million people now covered under Obamacare makes each successive vote to dismantle the law more toxic. Ryan's budget would end all expanded Medicaid programs and end the subsidies that make insurance affordable for many people.