(Already a Member? Log in or go on in!)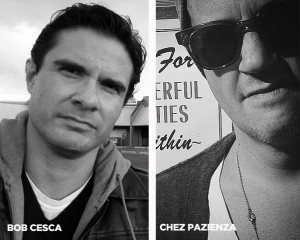 There are TWO ways to listen. You can either become a member for $6 per month (cancel any time) by clicking the PayPal button below. Or you can buy individual episodes through our Band Camp store for $2 per download.
Hosted by Bob Cesca and Chez Pazienza, the Bob & Chez Show After Party is a one hour weekly spin-off of the popular Bubble Genius Bob & Chez Show, as heard on WPWC 1480 AM in Washington, DC, bobcesca.com, deusexmalcontent.com, The Huffington Post, Stitcher Radio and iTunes.
It's everything we can't shoehorn into our other show: pop culture, politics, sex, drugs, rock & roll -- and personal stories we probably shouldn't be talking about in public. It's totally commercial-free and uncensored!
If you don't like it, click the UNSUBSCRIBE button below.