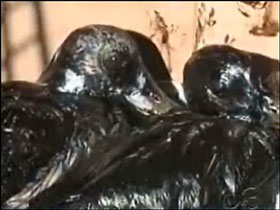 Hundreds of birds are dead and hundreds more are coated with oil two days after a tanker dumped 30,000 gallons of oil into the Delaware River adjacent to Philadelphia. Divers have found two holes in the hull of the Tsakos Shipping tanker, which left a 20 mile trail of oil while on its way to a Citgo Petroleum facility in Paulsboro, New Jersey. KYW News reports:
[This] type of ship is planned to be barred from U.S. waters within seven years because of safety concerns. Environmental groups have long warned that single-hulled oil tankers like the Athos I are less able to withstand accidents than double-hulled ships with a second layer of steel protecting their tanks.
Tsakos officials say the ship probably hit something. They're smart!
The good news for Tsakos is that they're probably loaded with protections to cover any liability as the result of the incoming deluge of criminal and civil charges. Good for them. And it gets better. Tsakos' usage of cheapo, obsolete single-hulled tankers saves them a bundle. In fact, they made record profits this year. $215 million dollars worth. The Motley Fool is calling them an attractive stock. Why not send them an congratulatory e-mail at their site. Feel free to start the e-mail with something like: "Congratulations, you filthy rat bastards…"